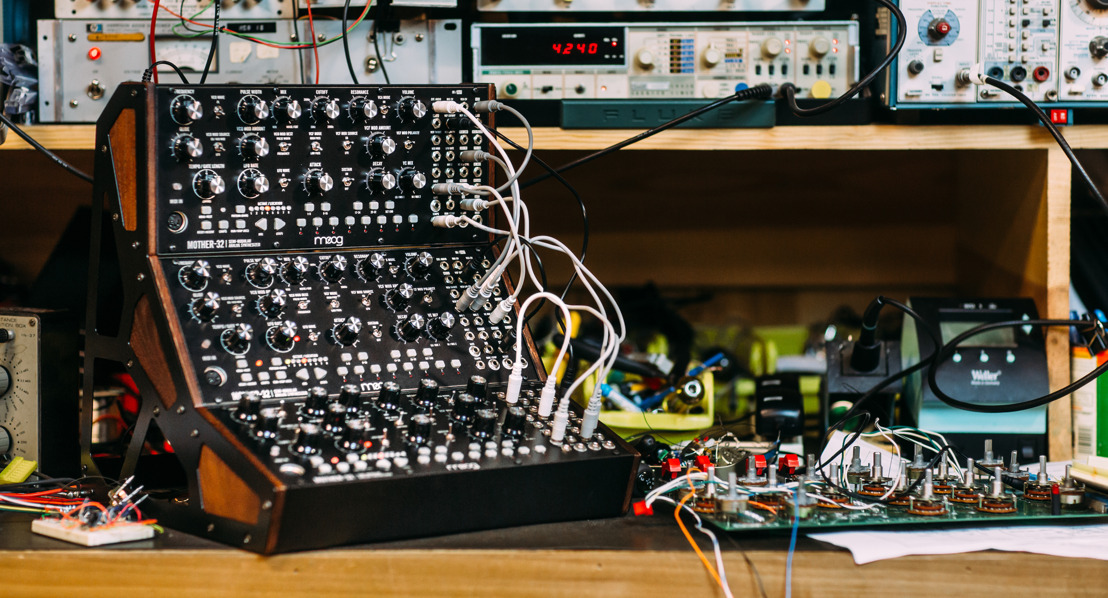 Moog Announces Major Mother-32 Firmware Update
Asheville, NC, April 28, 2020 — Introduced in 2015, Mother-32 was Moog's first entry in its ever-growing family of semi-modular analog synthesizers. Combining a flexible analog monophonic voice, robust step-sequencer, and 32-point 3.5mm patchbay for interconnectivity and expandability, Mother-32 is a dynamic standalone instrument that gives synthesists a way to incorporate classic Moog sound into the Eurorack modular world.
Today, Moog is proud to bring Mother-32 owners a major instrument update with Firmware v2.0. This update provides users access to a host of dynamic new features, including multiple sequencer directions, improved and expanded clocking options, CV-addressed sequencer control, selectable swing intervals, and new pattern change behaviors. The update also includes enhancements such as the ability to ignore MIDI clock or start/stop messages, improved LED visual feedback, options to auto-save and write-protect patterns, as well as selectable analog clock input and output resolutions. Firmware v2.0 features a completely rewritten sync and timing engine, which allows for incredibly tight and funky grooves synchronized to any analog clock source.
To coincide with the release of Firmware v2.0, Moog has also added two new videos to its Moog Demo Library playlist on YouTube; these videos demonstrate how to update your Mother-32 Firmware and dive into some of the latest firmware's features. Registered owners will also receive a new Mother-32 patch book that helps explore the new features in v2.0. Plus, synth virtuoso Lisa Bella Donna will be exploring some of the added functionality of Firmware v2.0 on Moog's ongoing Instagram livestream series this Wednesday, April 29th, at 4PM EDT.
Watch Mother-32 | Firmware v2.0 New Sequencer Directions here.

Watch Mother-32 | How to Update Firmware here.
About Moog
Moog Music is the world's leading producer of analog synthesizers. The employee-owned company and its customers carry on the legacy of its founder, electronic musical instrument pioneer Dr. Bob Moog. All of Moog's instruments are hand built in its factory in downtown Asheville, North Carolina. Learn more here.

Jeff Touzeau Public Relations, Hummingbird Media, Inc.