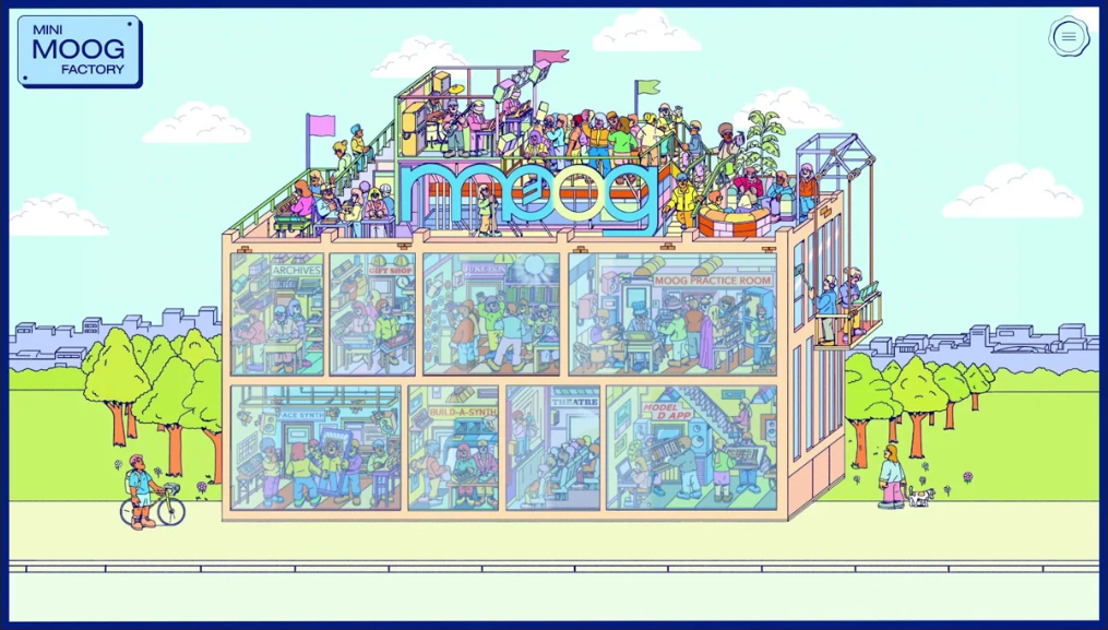 Moog Celebrates 70th Anniversary & Return of Iconic Minimoog Model D with Virtual Experience Exploring Generations of Electronic Music
A new web experience from Moog Music and Pentagram invites you to step inside the whimsical world of electronic sound with a virtual Minimoog Model D, online jukebox, and more fun for musicians and synth fans of all ages. Visit minimoogmodeld.com to tour the factory!
Asheville, NC, May 23, 2023 — A new digital experience from Moog Music celebrates the historic synthesizer manufacturer's 70th anniversary, re-release of its most legendary analog synthesizer, and electronic music pioneer Bob Moog's birthday (May 23rd).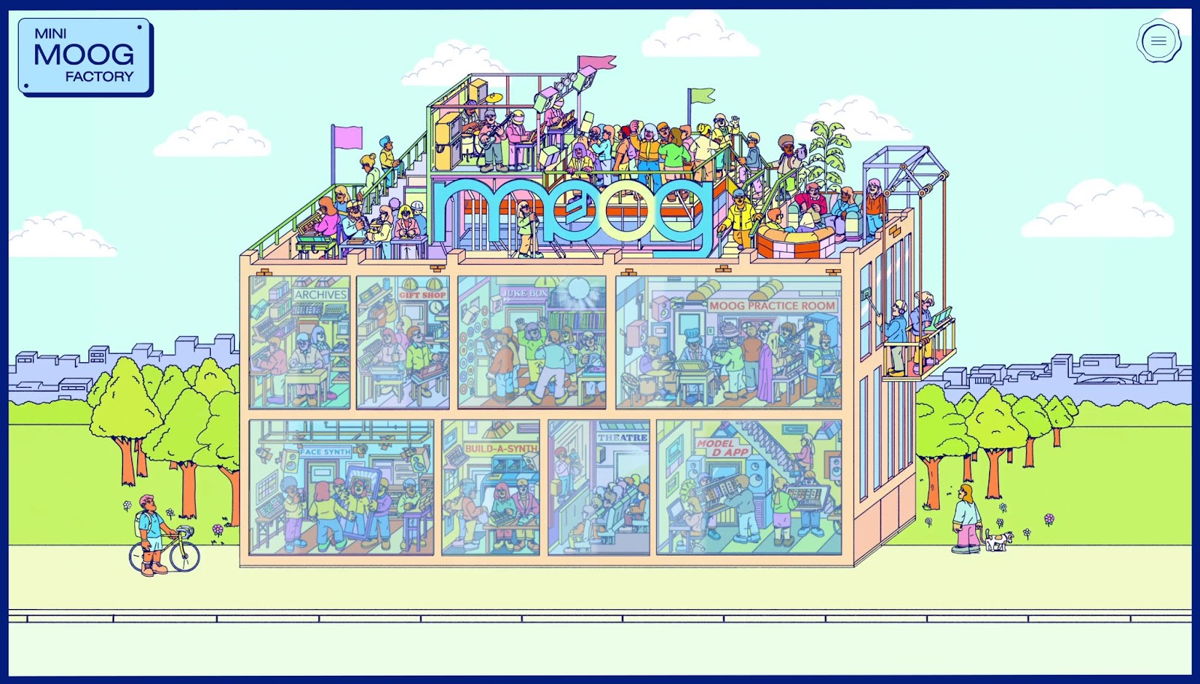 Drawing inspiration from '90s video games and websites, this interactive experience gives visitors access to the rich history of electronic music through the lens of the Minimoog Model D. Discover the amazing musicians, songs, stories, and sounds that have shaped generations of music through apps and activities inspired by this beloved synthesizer and the artists that embraced it.
Check out the new Model D website here!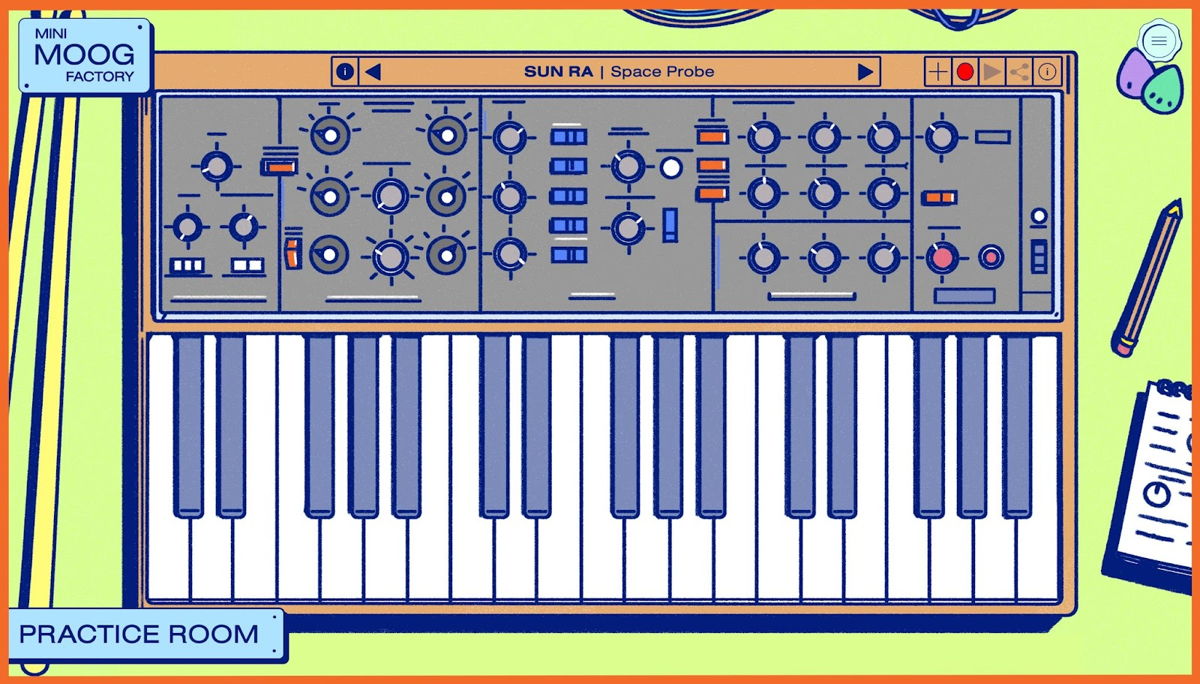 Play the Sounds of Your Favorite Artists & Songs
Used by some of the most innovative musicians of our time, few instruments have been as impactful to the world of music as Minimoog Model D. Bernie Worrell used the instrument as a foundation of Parliament Funkadelic's futuristic sound. Kraftwerk employed Model D on the pioneering concept album Autobahn, defining an entirely new genre of electronic music. Gary Numan replaced his live band's guitars with Minimoogs, creating the prototype for industrial music. The classic sound of the Minimoog Model D can be heard on Bob Marley's Catch a Fire, David Bowie's Low, and Dr. Dre's The Chronic, to name a few.
With this artistic rendition of the classic synthesizer, visitors can jump in and play an online version of the Minimoog that features the sounds inspired by generations of musicians. Featuring over 45 classic presets, users can record and share their own short musical creations using this interactive instrument. Make an original song that fuses the sounds of your favorite artists: bring the bass from Devo's "Whip It" together with the lead from Bob Marley's "Stir it Up," backed by the kick drum from 10cc's "I'm Not In Love."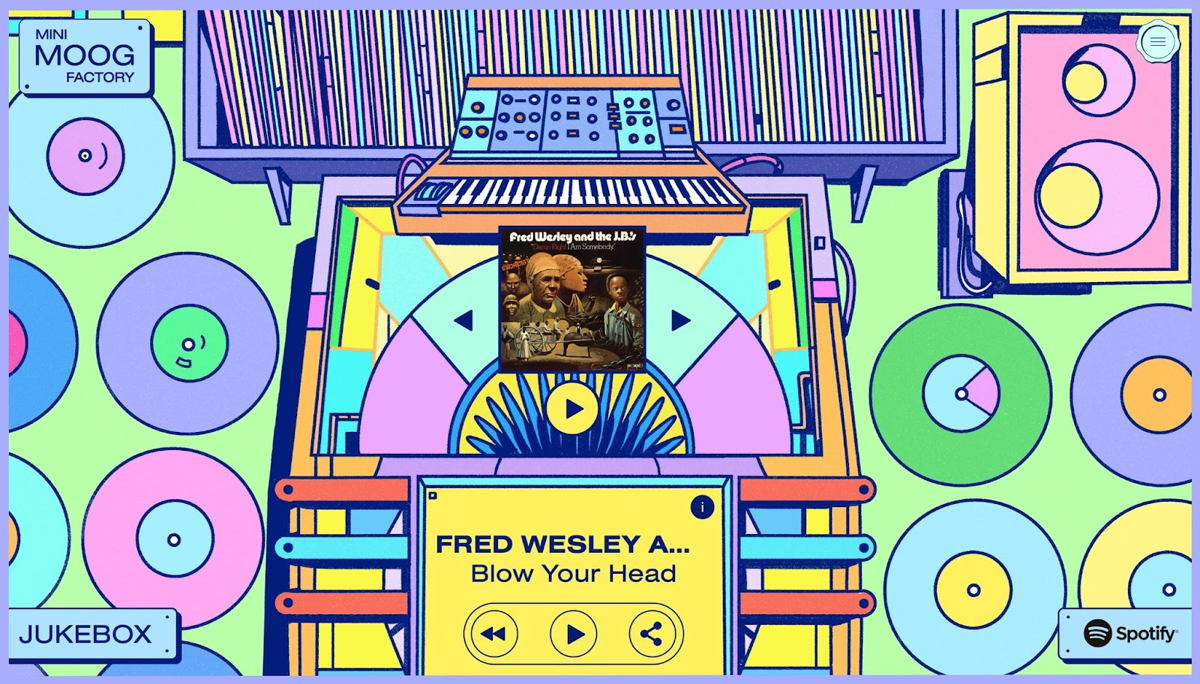 Step inside the Mini Moog Factory
Each facet of minimoogmodeld.com was designed to bring visitors a joyful experience behind every digital door that leads to each new section of the site. Here's what you can expect to experience:
Jukebox: The sound of the synthesizer is now as ubiquitous in music as the human voice. From prog rock and disco to reggae and hip-hop, explore a collection of more than 45 of the most influential songs that feature the Minimoog Model D!
Practice Room: Play your favorite Minimoog lead, bass, and percussion sounds using the site's free emulation inspired by the Minimoog Model D. This interactive synthesizer allows any user to create, share, and save original recordings.
Archives: Explore the rich history of this archetypal synthesizer, the people who designed it, and the impact it's had on the world.
Theatre: Sit back and enjoy an assortment of musical performances and other videos that capture more than 50 years of Minimoog Model D on stage, in studios, and on your favorite records.
Build-a-Synth: Print and "build" your own mini Minimoog—the perfect studio decoration or desktop companion!
Face Synth: Become one with the sounds and functionality of the Model D. This fun and easy-to-use Instagram filter integrates with your mobile device to use your facial expressions and body's movement to trigger the Minimoog's controls.
Model D App: Discover the sound and workflow of the classic Model D from your iOS or macOS device with the official Minimoog Model D app. Optimized for both iOS and macOS, anyone with an Apple device can jump in and play with over 160 included presets or begin exploring electronic sound design to craft their own unique style.
Gift Shop: Enter Moog's online merch shop for high-quality accessories, clothing, and collectibles perfect for any Model D owner or aficionado. Browse tee shirt designs, coffee mugs, bumper stickers, and more.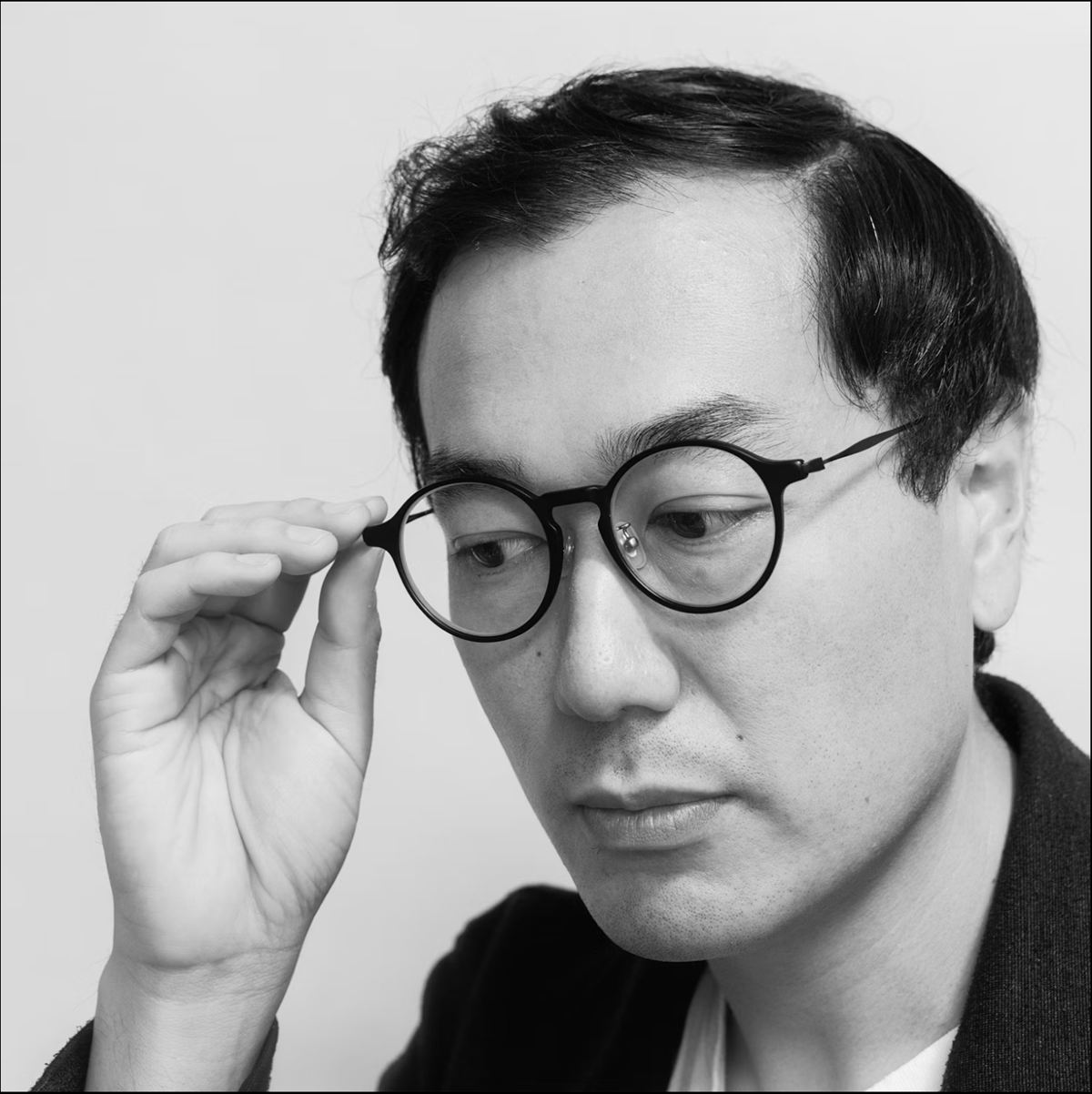 Moog & Pentagram: Behind the Creative Collaboration
The creative minds at Moog partnered with multi-disciplinary, independently owned design studio Pentagram and developer team Counterpoint to bring this vision to life. Leading the project was Pentagram's sound and experiential design visionary Yuri Suzuki, who Moog previously collaborated with on the Global Synthesizer Project back in 2016 for that year's Moogfest.
With a passion for Moog synthesizers and the brand's legacy, Yuri was the perfect partner to celebrate the Model D's cultural impact. He and the hardworking teams at Pentagram and Counterpoint worked with illustrator Rob Pybus to create an experience that allows visitors all over the world to discover the deep history and sound of the Moog world.
"Working on this web project for the past two years has been an incredible journey, as Moog has always been my top fascination. Their synthesizers' special sound and beautiful design hold a special place in my heart. I still vividly remember our first discussion years ago where we envisioned a web experience that celebrates the Minimoog Model D. Our goal was to craft a tightly interactive and fun experience that would capture the essence of Dr. Bob Moog and his team's groundbreaking innovation.
Throughout the project, the collaboration has been tight-knit and extremely enjoyable. We have exchanged numerous ideas on how to make the introduction of this beautiful innovation both fun and captivating. I am grateful to everyone involved in this project for their hard work and dedication over the past two years.
I invite you to visit the website and immerse yourself in the discovery of the Minimoog Model D—a true testament to the innovation and creativity of its creators." -Yuri Suzuki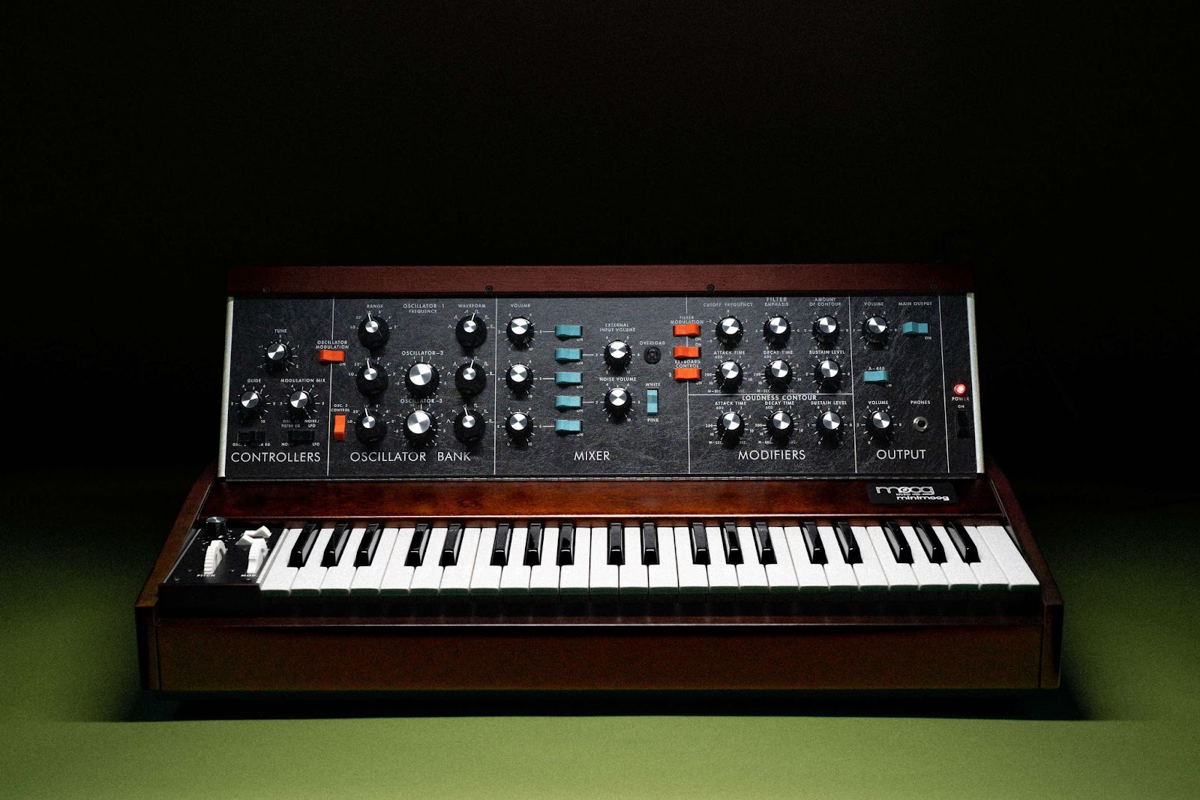 Your Chance to WIN Model D Serial #1 (2022)
In collaboration with the Bob Moog Foundation, Moog Music is celebrating the return of the Minimoog Model D and Dr. Bob Moog's birthday with a raffle for serial #1 of this latest edition of the instrument!
All proceeds from the Minimoog Model D Serial #1 Raffle will benefit the Bob Moog Foundation and its mission to "inspire people of all ages through the intersection of science, music, technology, and innovation." Founded in 2005, the Bob Moog Foundation provides hands-on opportunities for children and adults to explore the science of sound and synthesis through three main projects: Their hallmark educational project Dr. Bob's SoundSchool, the preservation of the vast and growing Bob Moog Foundation Archives, and the Moogseum, an interactive facility where Bob Moog's legacy comes alive to inspire people from all walks of life, located in downtown Asheville, NC.
Built by hand to last a lifetime, the new Minimoog Model D delivers the revered quality, undefinable feel, and authentic sound of a pristine vintage Moog. The three-oscillator, monophonic, analog synthesizer is securely housed in a locally sourced Appalachian cherry cabinet and hand-finished aluminum chassis. Sounding as vibrant and deep as ever, its legendary low-pass ladder filter, powerful oscillators, and rich saturating mixer retain the exact component placement and through-hole design of a 1970s-era Minimoog Model D.
Visit Moog Music's website for details about the raffle and for your chance to win a Model D!
More about the Minimoog Model D
Originally released in 1970, the Minimoog Model D changed the face of modern music and has served as the archetype for all synthesizers that followed.
The all-analog instrument gained acclaim for combining the colossal sound of the 1960s Moog modular synthesizers with the accessibility of pre-wired modules, meaning that it could be played instantly and intuitively with no patch cables required. A groundbreaking innovation, the Minimoog was quickly embraced by a diverse roster of performers, such as Herbie Hancock, Kraftwerk, Jan Hammer, Sun Ra, Giorgio Moroder, Parliament Funkadelic, Pink Floyd, and Gary Numan—all shaping unique sounds and forging new genres with the instrument.
Learn more about the instrument here.
About Moog Music
​Moog Music is the world's leading producer of theremins and analog synthesizers. The employee-owned company and its customers carry on the legacy of its founder, electronic musical instrument pioneer Dr. Bob Moog. All of Moog's instruments are assembled by hand in its factory in downtown Asheville, North Carolina. Learn more here.
---

Jeff Touzeau Public Relations, Hummingbird Media, Inc.

Ashley Kinchen Hummingbird Media, Inc.