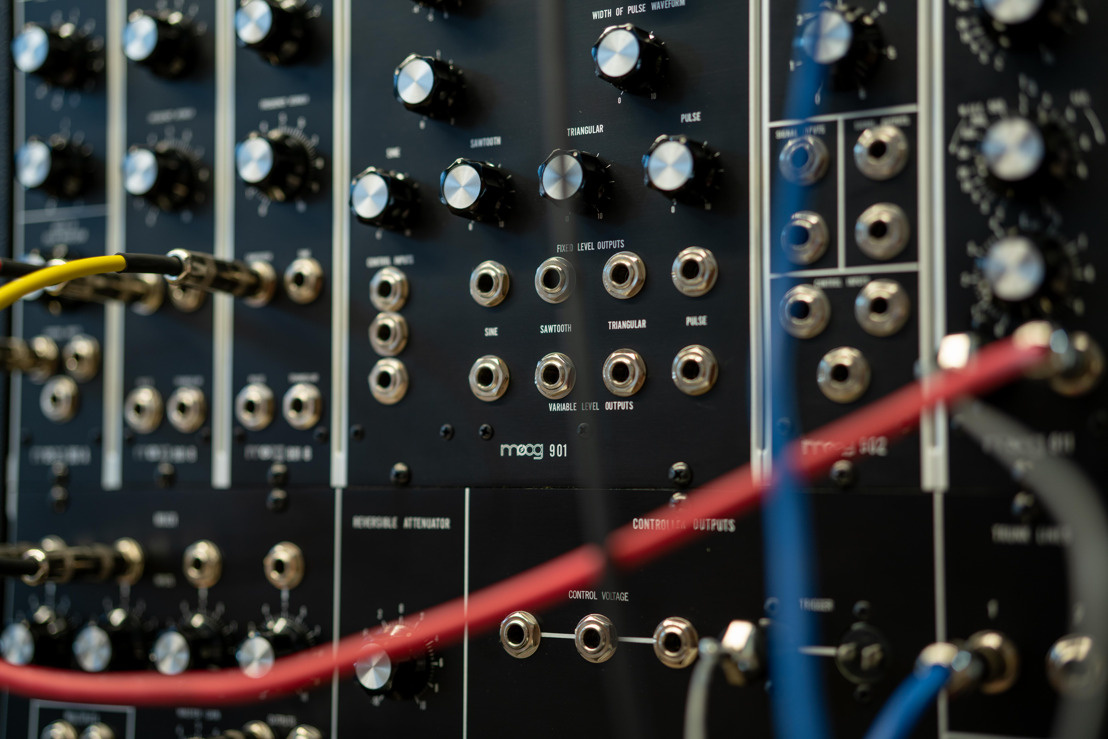 Moog Music Brings Synth Playground to Amsterdam Dance Event (ADE)
Amsterdam, The Netherlands, October 14, 2019 — Moog Music welcomes attendees of this year's Amsterdam Dance Event, the world's largest electronic music conference and festival, to explore the unlimited possibilities of analog sound. Bringing with them a wonderland of electronic instruments ranging from the vintage modular systems that started it all to cutting-edge modern polysynths, the pioneering American synth maker presents an immersive sensory experience for ADE's audience of music professionals, aspiring DJs/producers and musicians, and electronic music fans.
Moog's Psychedelic Synthesizer Sanctuary
​Visit Moog Music in the ADE Sound Lab to get hands on and discover the magic of analog synthesizers, including the 16-voice polyphonic Moog One, legacy Moog modular systems, and the new semi-modular Matriarch. Then, engage with Moog Synthesizer Specialists and Moog Factory Engineers to deepen your synthesis experience.
For those visiting Moog's Psychedelic Synthesizer Sanctuary who wish to take a trip deeper down the rabbit hole, Synth-Guided Explorations will be available upon request as a creative catalyst for inner development.
Moog's Psychedelic Synthesizer Sanctuary

​Synth-Focused Discussions & Demonstrations
​Synthesizer Symbioses: Synthesizer pioneer Malcolm Cecil and electronic artist Floating Points in conversation with Moog Engineer Cyril Lance.
Analog synthesizers contain thousands of individual electronic components, each with their own particular tolerances and behaviors, working in combination to create the unique personality of that particular instrument. Each artist also has their own unique creative soul—a particular chemistry, personality, artistic intent, and vision—that they express through a chosen technology.

​Composing Live Techno with Analog Synthesizers: German DJ/techno-producer Stephan Bodzin and mixing powerhouse Hannes Bieger in conversation with Nick Valente of Moog Music.
Join us as we discuss the use of analog hardware synths in the studio and how artists translate that workflow to using live instrumentation as part of their performances and DJ sets.

​Celebrating the Theremin with Dorit Chrysler: Join Austrian-born composer, musicologist, and esteemed thereminist Dorit Chrysler for an in-depth theremin discussion and demonstration.
As Director of the New York Theremin Society and founder of Kid Cool Theremin School, the first international school for learning how to play the theremin, Dorit Chrysler brings a wealth of knowledge and experience to the ADE Sound Lab. Learn about the instrument that paved the way for electronic music 100 years ago, and discover how its unique sound stands the test of time in today's music production.

​About Moog Music
​Celebrating a century of electronic music would look vastly different without the contribution of the Moog Synthesizer.
In 1964, Dr. Bob Moog changed the future of music when he unveiled the Moog Synthesizer, an instrument that opened new doors to the infinite possibilities of electronic sound. Early electronic artists like Wendy Carlos, Keith Emerson, Klaus Shulz, Giorgio Moroder, and Isao Tomita used the instrument to develop new styles of musical expression, forever changing the way we hear the world.
Today, Bob's legacy lives on in the analog synthesizers built by hand inside the Moog Factory by the company's employee-owners. To learn more about Moog Music, visit moogmusic.com.

Jeff Touzeau Public Relations, Hummingbird Media, Inc.