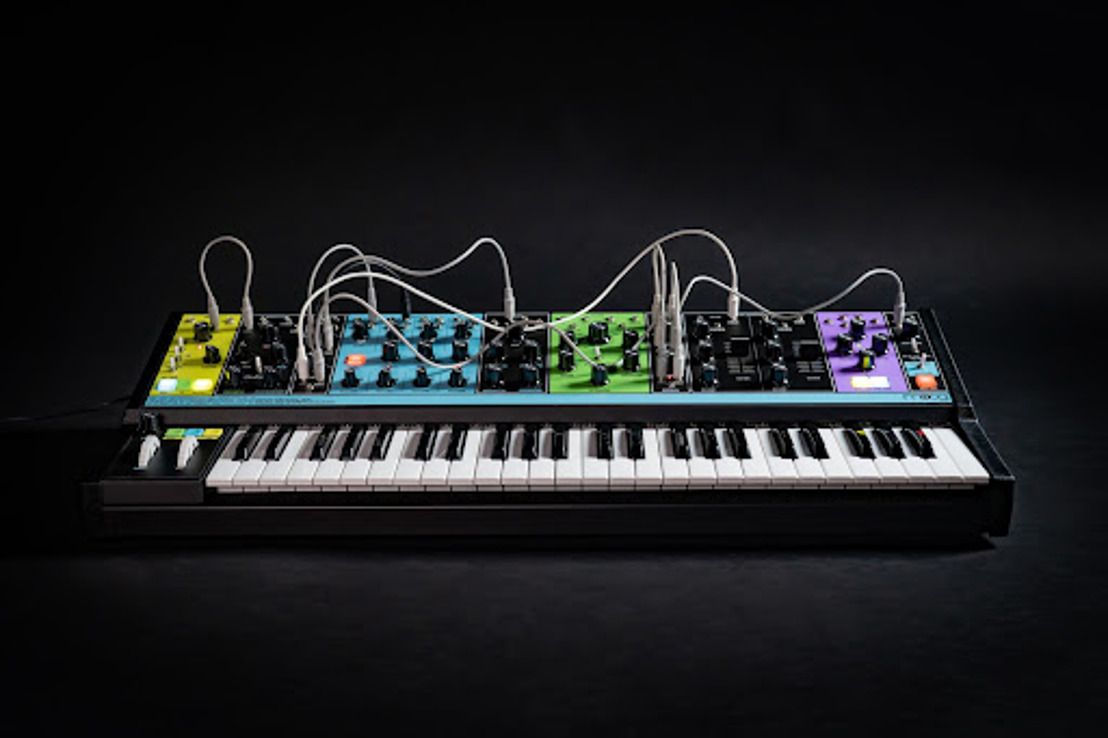 Moog Releases Matriarch Firmware Update, New Patching Guide & More
This update to Moog's paraphonic semi-modular analog synthesizer includes bug fixes, new features based on customer requests, an exploratory patch book, instructional videos, and tutorials to demonstrate the power and flexibility of patching with Matriarch.
Matriarch Firmware v1.3.0 Highlights
Firmware v1.3.0 introduces a number of updates and new features for Matriarch owners, detailed below. Among MIDI and CV functionality improvements, Matriarch Firmware v1.3.0 adds pitch wheel information to the KB CV output for new modulation opportunities and user-selectable velocity curves to enhance dynamic playing.
Alongside the new firmware, Moog has also released a new custom application for updating firmware on Matriarch, making updates a seamless process for owners. Registered owners may download the new Firmware Updater from their account page on Moog's website.
MIDI Velocity Curves: This feature allows the user to select a variety of keyboard velocity response curves. There are four options available: base, linear, stretched, and compressed. If you tend to play keys with a harder touch, try switching to linear or stretched to more easily produce softer velocity values. Alternatively, switching to compressed will make it so that higher velocity values are produced with less physical effort.
Pitch Wheel information added to the KB CV Out: The Pitch Wheel setting will now come out of the KB CV Out alongside the keyboard information. Try using the KB CV Out to modulate the stereo delay time 1 input to create longer delay times when you play higher notes on the keyboard. While holding a note, moving the Pitch Wheel will not only adjust the pitch, but it will now also modulate the delay time.

Response to the TIME 1 IN CV of the Stereo Delay is improved when synced.

KB GATE OUT will now follow MULTI TRIG selection.

KB VEL OUT (Keyboard Velocity CV Out), KB AT OUT (Keyboard Aftertouch CV Out), KB CV OUT (Keyboard CV Out), and KB GATE OUT (Keyboard Gate Out) correctly update when MIDI notes are played.

Global Setting 4.1: Delayed Keyboard Octave Shift has been improved and now also applies to the keyboard CV output.

Octave Transpose controls are now more responsive.

PPQN IN and OUT have been improved

CC94 has been added to allow switching voice modes over MIDI.

Spurious MIDI messaging no longer occurs when HOLD function is engaged.
Visit your account on Moog's website for full release notes and to update your instrument's firmware.
---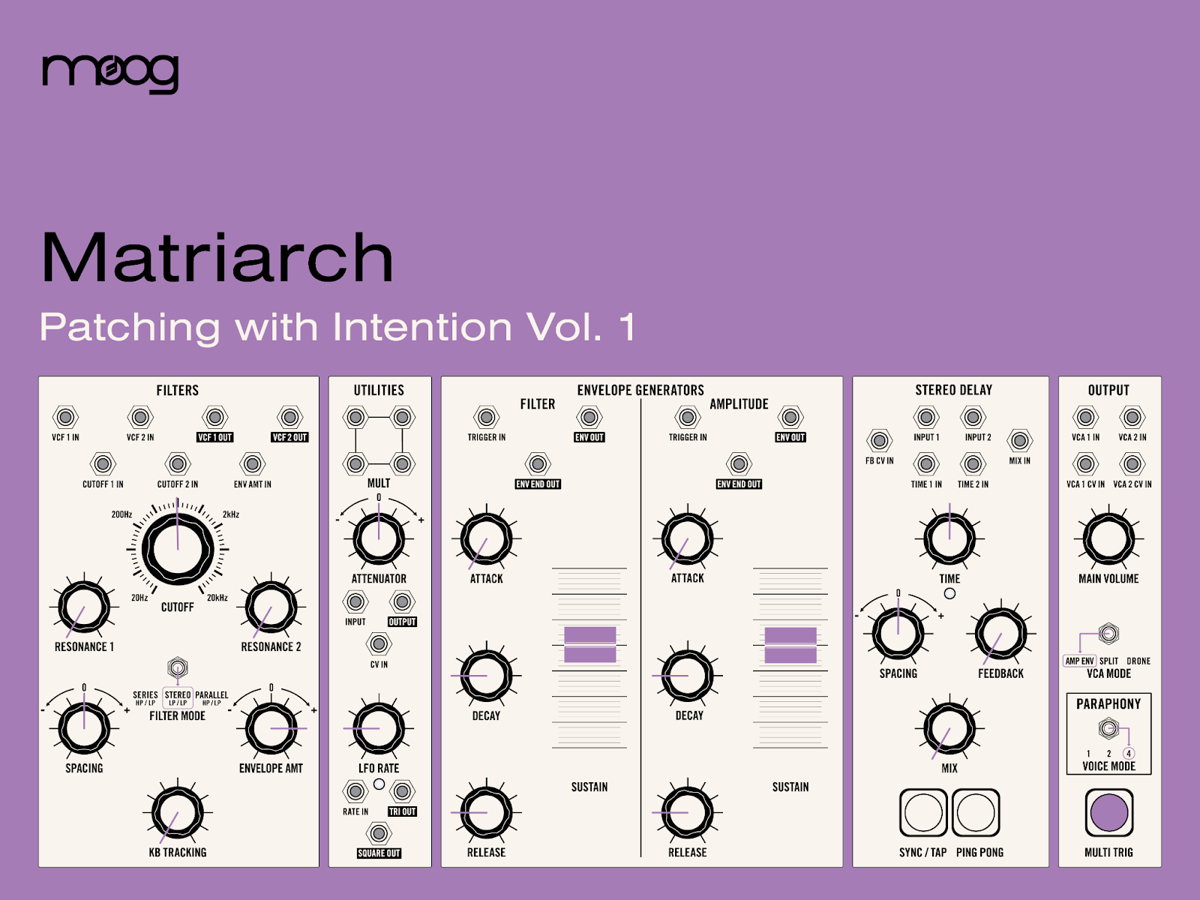 Creative Inspiration: "Patching with Intention" Exploration Guide, Patch Book, and New Moog Demo Library Videos
Modular patching opens up an endless world of sound design possibilities. Moog has developed a series of guides designed specifically for instrument owners to have a deeper understanding of the principles and power of modular synthesis.
This new "Patching with Intention" resource for Matriarch begins with introductory lessons and progresses to demonstrate how these basic steps can lead to complex modulation and sound sculpting. To get started with creative patching techniques, explore more intricate synthesis concepts, and gain a deeper understanding of patchbay functionality of your Matriarch, download this guide inside your account at moogmusic.com.
---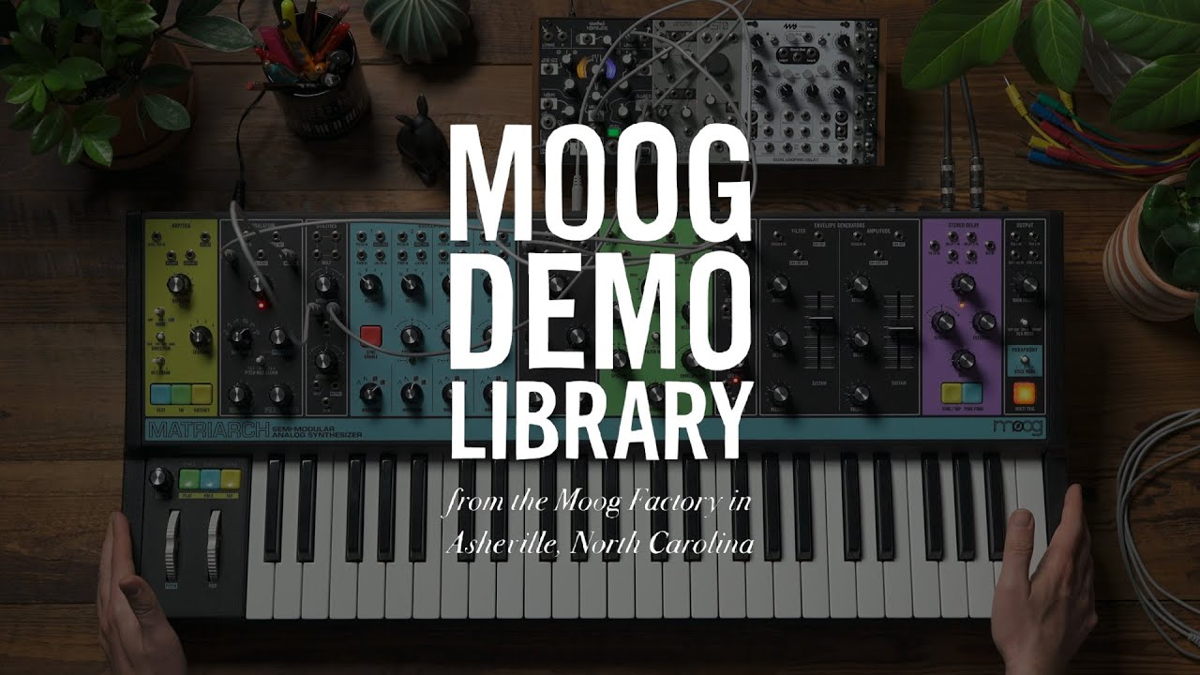 Today, Moog also released four new Moog Demo Libraries demonstrating how to use patching to achieve a variety of sound design techniques and use Matriarch as a powerful Eurorack controller.
Experiment with Matriarch's three hidden ring modulators, get to know the attenuators better by using them to patch stereo filter movement, and explore the velocity and aftertouch CV capabilities of Matriarch in the context of a dynamic vibrato patch. Watch all four new videos on Moog Music's YouTube channel:
To learn more about this update and download the latest firmware for your Matriarch, visit moogmusic.com/.
---

Jeff Touzeau Public Relations, Hummingbird Media, Inc.

Ashley Kinchen Hummingbird Media, Inc.