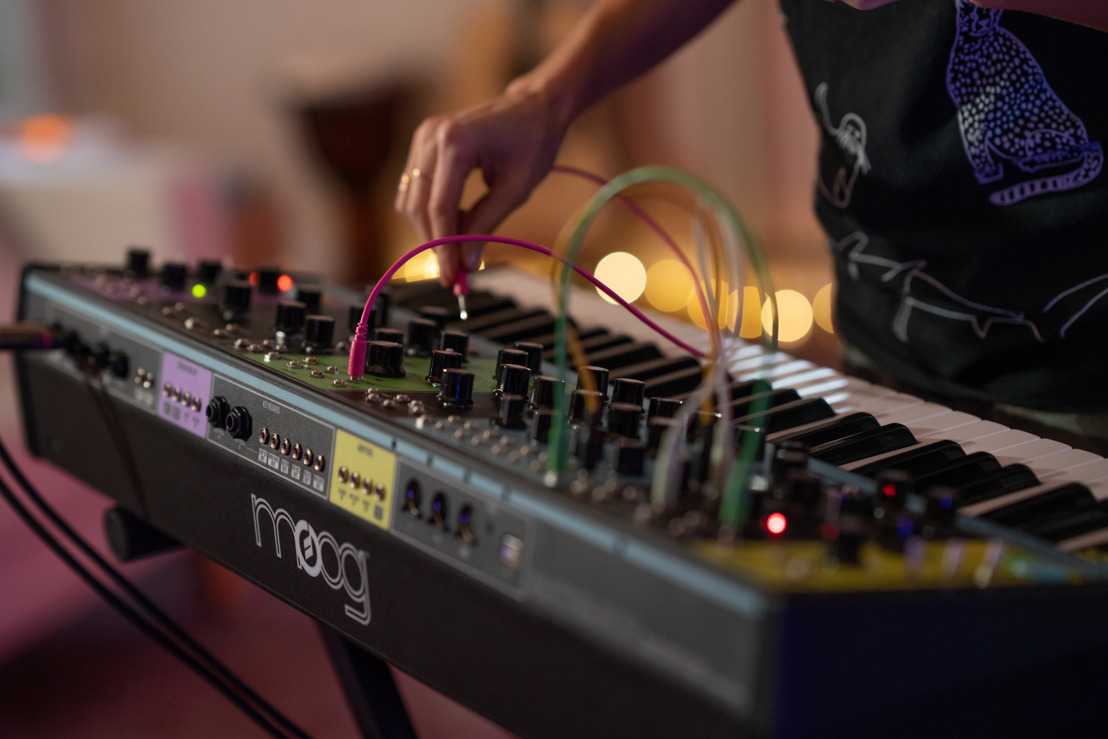 Sarah Schachner Composes Haunting Soundscape with Moog Matriarch
Video game, television, and film score composer Sarah Schachner conjures raw, meditative sounds in "Aurora Aura".
Asheville, NC, November 5, 2019 — Perhaps best known as the creative force behind Assassin's Creed and Call of Duty's cinematic soundtracks, multi-instrumentalist Sarah Schachner invites Moog Music into her home studio for an exclusive performance.
The LA-based composer's dimly lit, violet-hued studio space is ripe for sonic exploration. "Aurora Aura" captures Schachner in her element:
surrounded by an array of acoustic and modern electronic instruments that serve as vital tools in her creative workspace.
"My creative process typically begins with exploring raw sound and texture on an expressive instrument, and that then informs melody and/or harmony," the artist explains. "When I'm writing and producing, my space always seems to end up in total disarray with instruments scattered all over the furniture and floor. I like a bit of chaos during the creative process."
In "Aurora Aura," Schachner combines piano, Eurorack, and the new Matriarch synthesizer to craft a chilling yet moving original piece. For the Philly-born artist, achieving this unique style is as much about inspiration as it is about instruments.
"Being a composer for film and games, the reality is that I have to be creative all the time—not just when inspiration strikes," Schachner shares. "I'm grateful when I find an instrument that reminds me of what drew me to music as a child by inspiring me to take my time exploring sounds and not just rush to something I already know works. Some synths do one or two things really well, but the Matriarch goes beyond that and celebrates and encourages the joy of discovery. It gets me into a creative flow state quickly where it becomes just as much about enjoying the process as the end result, and that is priceless."
Hear Sarah Schachner's newest compositions in Call of Duty: Modern Warfare. Listen to the soundtrack here.
About Moog Music
​Celebrating a century of electronic music would look vastly different without the contribution of the Moog Synthesizer.
In 1964, Dr. Bob Moog changed the future of music when he unveiled the Moog Synthesizer, an instrument that opened new doors to the infinite possibilities of electronic sound. Early electronic artists like Wendy Carlos, Keith Emerson, Klaus Shulz, Giorgio Moroder, and Isao Tomita used the instrument to develop new styles of musical expression, forever changing the way we hear the world.
Today, Bob's legacy lives on in the analog synthesizers built by hand inside the Moog Factory by the company's employee-owners. To learn more about Moog Music, visit moogmusic.com.
​

Jeff Touzeau Public Relations, Hummingbird Media, Inc.